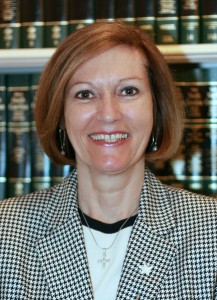 The prominent Hickory-based law firm of Young, Morphis, Bach & Taylor, LLP has announced that Terry M. Taylor, a partner in the firm, has recently been re-certified as a legal specialist in real-property law by the North Carolina State Bar. Her certification includes both commercial and residential real-property law. Taylor is the only lawyer that is certified in both commercial and residential real-property law in Alexander, Burke, Catawba, or Caldwell County. Taylor has been certified since 1993.
 Taylor is a Martindale-Hubbell AV Preeminent Rated attorney among her peers. Her practice has consisted primarily of real estate law since she joined Young, Morphis, Bach & Taylor in 1984. She also holds a master's degree in regional and community planning. Her law practice includes commercial and industrial real estate, business transactions for medical professionals, municipal law and estate law.
 To be certified as a specialist in real-property law, a lawyer must be an active member in good standing with the North Carolina State Bar for at least five years, pass a written exam in each specialty, devote at least 25% of his or her practice to real property-law during the past five years, attend continuing legal-education seminars in real-property law, and be favorably reviewed by other lawyers and judges. The State Bar's specialty program is intended to assist the public in the selection of legal counsel by identifying lawyers such as Taylor who have demonstrated special knowledge, skill and proficiency in the real-property law.
 Taylor is currently on the board of the Hospitality House, Through Healing Eyes, Inc. and is the legal advisor for the Hickory Downtown Farmer's Market and the Sawmills Farmers Market. She has been active for many years in United Way, and is a former board member of the Western Piedmont Symphony, the Catawba County Council for the Arts, the Catawba Science Center, and the Women's Resource Center. "Helping others and helping those organizations that make the Catawba Valley a great place to live are high priorities for me," says Taylor.
 Established in 1949, Young, Morphis, Bach & Taylor, LLP serves clients throughout western North Carolina, offering legal expertise in corporate, business, estate, trial, tax, and real estate law. The firm's eight lawyers are dedicated to providing superior legal advice in a caring and professional environment, while fulfilling its obligations to the community and the profession
FOR MORE INFORMATION, CONTACT:
Terry M. Taylor
Young, Morphis, Bach & Taylor, LLP
828-322-4663