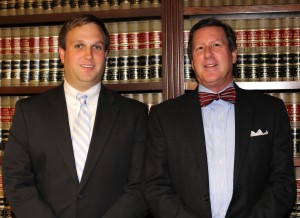 HICKORY – The law firm of Young, Morphis, Bach & Taylor, LLP announced that John W. Crone, III has become a member of the firm, and Jim Hawes has joined the firm as an Associate. "We are very excited to have John and Jim join our firm," said Wayne M. Bach, senior partner with Young, Morphis, Bach & Taylor. "John graduated from University of North Carolina at Chapel Hill and Wake Forest University School of law and comes to us with more than thirty-five years of experience in asset protection, real estate, municipal, personal injury and eminent domain law. He has a wealth of knowledge in many areas of our profession. John has always been an asset to, and has made a positive impact within, our community. We are proud to have him as part of our team."
Hawes, a Winston-Salem native, focuses his practice primarily on federal criminal defense, corporate law and general civil litigation in state and federal courts. He spent the past seven years practicing with The Edmisten, Webb & Hawes Law Firm in Raleigh before moving to Hickory. He is a graduate of The University of North Carolina at Chapel Hill and The University of Richmond School of Law.
"We are in the business of helping our clients succeed," says Terry M. Taylor, Managing Partner of Young, Morphis, Bach & Taylor, LLP. "When our clients succeed, we succeed. The addition of John Crone and Jim Hawes will provide our clients access to a wider network of strategically important relationships. Hickory is emerging as a jump-start, growth area within the resurging manufacturing and start-up business atmosphere of the Catawba Valley Region, and our clients will benefit greatly from the knowledge and experience that these highly regarded lawyers will bring to our firm."
The Firm will continue to practice at its existing location of The First Lawyers Building at 400 Second Ave. NW, Hickory, until they move to their new building, which is now under construction and renovation, on Highway 127 at 858 Second St. NE, Hickory.